Lighting Control System Overview :
Lighting framework on metro station is regularly controlled utilizing an independent controller. The controller supported 3rd party integration which utilized Telnet and it was required to control the lighting on the station utilizing 3rd party rationale controller and SCADA application.
Initial Situation of Lighting Control Integration:

Shubham recommended a converter which could convey among Telnet & SNMP (V2C).
BMS was additionally situated on a similar site.
Lighting controller works with Telnet protocol for 3rd party integration.
BMS comprehends Modbus RTU protocol.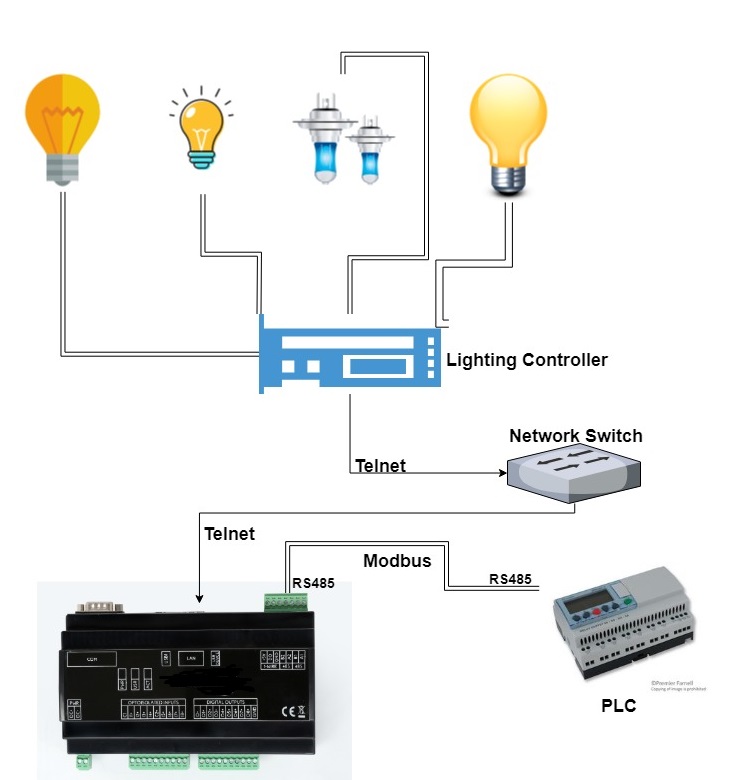 Customer Requirement :

For checking and controlling the lighting control integration framework on a metro station, customer needed to control the turning on & off the light BMS additionally helps in getting the status of the light.
Since the lighting controller deals with Telnet & BMS comprehend Modbus RTU an immediate trade of information between them is unimaginable.
Solution Provided :

On examining the circumstance Shubham has given a powerful arrangement.
Shubham's gateway proposed a gateway which have 1xRS 485, 1x RS 232 Port and 1x Ethernet port which comprehends Telnet & Modbus RTU protocol.
We associated Lighting Controller with our gateway on RS 485 port & BMS on RS 232 port.
We design our gateway with the end goal that it will get the information from controller & serve it to BMS on RS 232 in Modbus RTU Protocol.
Result of Lighting Control System :

Utilizing our very own Telnet simulator we got the information to our gateway & with the Modscan instrument we could effectively show a similar date on BMS.